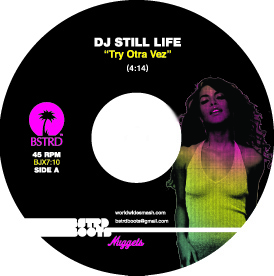 There's a bit of Brooklyn in almost every aspect of the Tropicaaliyah project.  Brooklyn DJs introduced me to the global bass sounds that inspired the production.  My co-workers and colleagues in the borough helped me mix and master it.  And fittingly enough it was over beers in Fort Greene that Brooklyn label BSTRD Boots and I worked out the details of a limited vinyl 7″ release for one of the tracks.
As many of you who know me are aware, I've been actively collecting vinyl records for over a decade.  There's just something about vinyl that makes a piece of music special.  So I'm extremely excited to be making my own contribution to the medium, and putting out something that's a bit less ephemeral than an mp3 or CD-R.
The record is available from several retailers, most of whom are online.  I'll try to update in the comments section when it shows up at places like Turntablelab and the like.  Hope it helps heat up your Spring and Summer months!
DJ Still Life- 'Try Otra Vez' b/w Instrumental (BSTRD BOOTS)