Tag Archives:
Machinedrum
If you've been following bass music or hip-hop (or fuck it, fashion or photography) in NY, there's a good chance that you've come across MeLo X's work. An affiliate of the Cassette NYC crew (who are kindof on hiatus right now due to the total BLOWING UP of just about all of them), I first me MeLo when he came by the EVR studio w/ the Sonnymoon guys for an interview. Since then I've seen him perform a 1-man beat assault at Le Poisson Rouge, release an excellent 12″ single w/ Machinedrum on Innovative Leisure, and continue to knock out some serious heat on regular beat tapes. This week he'll be coming by Worldwide Smash to preview his new album Fewture, which you can pre-order here. Tune in at midnight EST on Thurs 1/26 for the jams.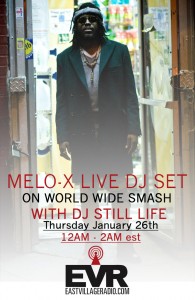 Brookyln Radio
plays host to shows and mixes from a TON of friends & family, including
Bastard Jazz
,
Subatomic Sound System
,
The Rub
,
Jubilee
and many more, so when they asked me to contribute a guest mix, I was excited to be in such good company. It gave me the opportunity to put together some of my favorite pieces of music in a bit more polished form than the live mixing I do on
East Village Radio
. I was also happy to be able to add some mix in some less beat-centric music, especially the amazing solo saxophone performance from Colin Stetson in the middle of the mix. I'm pleased with the results, to the point that it makes me want to consider podcasting again. I don't see that happening anytime too soon though, so in the meantime stream this one below, and if you need more short-form mixes, I posted my previous podcast series The Raw & The Crooked on my
Mixcloud page
.
Posted in

Download, Stream
Tagged

B Bravo, bass, Brooklyn Radio, DJ Mix, DJ Still Life, Footwork, Hip-Hop, Jazz, Machinedrum, Planet Mu, Podcast, Psych, Salva
Leave a comment